Chouriço à Bombeiro
Fireman's Chourico, ) is a smoked Portuguese spicy sausage set on a clay grid dish, splashed with a Portuguese whiskey called aquadente and set aflame. The sausage is urned as it browns and chars to your taste. Slice it up, pair with crusty bread, olives, cheese and of course wine for a tasty starter.

Ameijoas à Bulhão Pato (Clams Bulhão Pato Style)
Created in honor of the poet Bulhão Pato, Little neck clams mingle in a heady broth of garlic, lemon juice and cilantro. White wine can be used and other shellfish like mussels or long necks, mahogany clams may also be used.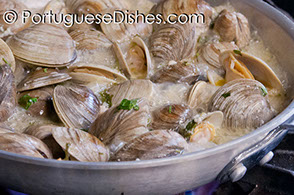 Pasteis de Bacalhau
Delicate quenelles ( egg-shaped) fried pastries of salt cod, potatoes, parsley and onion, perfect as a starter or served as a light lunch with black-eyed pea salad and roasted red peppers also make a great party appetizer when shaped smaller.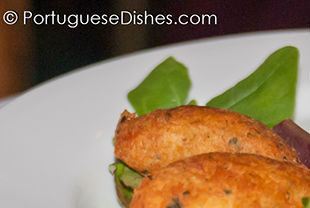 Rissóis de Camarão
Typically made with shrimp but can also be made with chicken, meat or codfish, even rabbit. These half-moon shaped choux pastry delights have a creamy shrimp filling with the flavor of fresh cilantro or parsley. Once assembled, these can be frozen before frying until needed..Don't be afraid to serve with cream sauce or cocktail sauce.